---
---
C3E are accredited by the Office of Zero Emission Vehicles (OZEV) to access the Electric Vehicle Grant.
EV Charging Point Installation Explained.
Installation is as simple as 1 – 2 – 3.
Step 1: Site Survey
An onsite visit is arranged, at this appointment the positioning of the chargepoint will be discussed and the electrical requirements for the Installation. A risk assessment will be carried out at this time.
Step 2: Distribution Network Operator (DNO) Notification
You will need to have your electric bill to hand at the site survey as a MPAN number is required. Your DNO needs to be notified of any EV chargepoint at your property.
Step 3: Installation of EV Charging Point
An Installation date is booked to install the chargepoint. You should be aware that power may be interrupted during the course of the installation. Installing the chargepoint should take a day.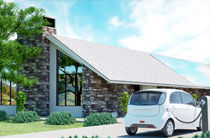 Grant Eligibility
Click here to view the "guidance for customers" document.
Grants available from The Office for Zero Emissions (OZEV)
The Grants are a voucher-based scheme. To claim a grant, you first need to complete an application. If the application is successful, you will be emailed a voucher which you present to your OZEV approved Installer. C3E are an Approved OZEV EV Installer. We will use the voucher to claim the grant after the installation.
EV infrastructure grant for residential car parks
OZEV grants are available for anyone renting, leasing, or managing a residential property to reduce the cost of charge points and their infrastructure. You could claim £500.00 and an additional £350.00 a combined grant of £850.00.
Workplace Charging Scheme (WCS)
The WCS is available to any business, charity, or public authority with some conditions. The WCS voucher is capped at £350.00 per charge point socket up to a maximum 40 sockets per application.
EV Chargepoint Grant (EVCG)
The EVHS chargepoint grant allows people who live in rental accommodation or own a flat to reduce the cost of buying and installing a home charger by £350.00.
Please note, your landlord or property manager may be able to claim an additional £500 per bay (up to 60 bays) towards the cost of installing infrastructure.
Landlord EV chargepoint Grant
This grant is available for owners of commercially let properties and could reduce the cost of EV charger installations by 75%, and up to £350 per charger.
In order to be eligible, you must have private parking.
For further information and assistance completing a grant application please contact us.
The future of motoring is going to be electric. The coming change over to electric vehicles has a clear direction of travel and is motoring on at a rapid pace year by year.
You can reduce the running cost of your EV even further if you install battery storage at your property.