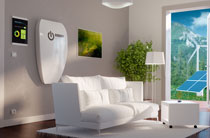 What are Rechargeable Lithium-Sulfur Battery (Li-S)
They are the next generation of battery technology. Sulfur is cheap and lithium-sulfur batteries have a higher energy density and reduced weight, making them nearly five times as powerful as lithium-ion batteries that are used in products like iPhones, cars and airplanes.
How they work: By replacing one of the electrodes in the lithium-ion design with a sulfur-based version, this battery boosts power and reduces the risk of overheating and allows batteries to be charged and discharged completely without damage.
Specifications
Size
519 x 558 x 318mm
Weight
20kg
Storage
3 kWh
Cycle Life
20000
Charge
4 Hours
The Rechargeable Battery Bank Storage System
The Ingenious thing is that this battery bank storage system is so versatile. It can be used with solar panels or it can be charged directly from the grid without the need for solar panels.
Solar Battery Bank Storage System
It is an ideal retro fit element to enhance your existing solar array. The energy produced from your array during the day would be stored ready for you to use in the evening when needed. The genius part of this is that you would have power during a power cut. This is not possible with standard solar arrays because of the safety protocol of ANTI-ISLANDING.
Mains Electricity Battery Bank Storage System (Non-Solar)
You would require an Off Peak Meter to be fitted so that the battery network could be charged overnight when electricity is at its cheapest tariff. The batteries would then supply the energy stored to power your home all the time at the cost of the off peak tariff. The genius part of this is not only will your electricity bills be reduced you will have power during a power cut.
Off Grid PV
We supply standalone systems that do not feed back into the grid. The reasoning behind this is because of the Anti-Islanding issue.
A solar array is a substantial investment and we believe that if you should have a power cut this is the precise time when that investment should return dividends by keeping your lights on. The array and battery system will keep you in the light whilst all around you are in the dark.
Please contact us for further information.